Bigfish presents 'Housexy' happening this November 30, 2007 at Embassy Superclub featuring resident Housexy DJ Tom Murgatroyd! Expect house music that spans from soulful / Latin to a tougher more edgy electro sound.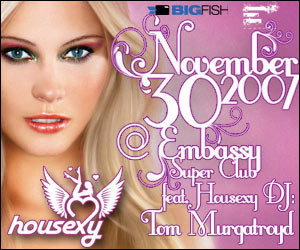 House party - Dress sexy!

Tom Murgatroyd, played to some of the world's hottest venues - Club Lotus (Bogota), Zinc / The Apartment / 360 at Jumeirah (Dubai), Club 7 (Bahrain), Home / Cargo (Sydney) to name a few and as regular at Ministry of Sound (London).

He delivers sets ranging from sweet sounding vocal house to dirty electro house, and has kept the best of company playing alongside some of the house greats including artists such as Eric Morillo, Pete Tong, Mark Farina, MYNC Project, Mark Knight and Funkagenda, Marc Hughes. Tom has really established himself as versatile DJ that can transport killer dance floors whether they are main room, backroom or bar.

In addition to the residencies guest slots for Housexy, Tom has secured a number of regular radio sets across the globe. Currently Tom is working for Ministry of Sound radio (London), Kiss FM (Portugal) and Alpha Radio (Sofia) spreading his uplifting sound to the masses.