BIGFISH presents Fierce Angel New Year Bash happening this December 31, 2007 (Monday) at the new Embassy Superclub featuring Mark Doyle! Start 2008 with a fierce bang!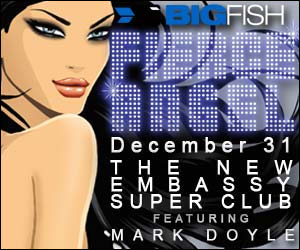 Mark Doyle is the main man behind Fierce Angel Records. The compiler of the CDs, A&R for the record label and headline DJ at the events across the world!

His phenomenal career all started back in 1999 when he had the idea for Hed Kandi and developed the brand as a lifestyle concept incorporating a record label, a radio show and international club nights that stimulate all the senses.

During Mark's tenure, Hed Kandi sold over five million albums worldwide and his unique A&R and marketing vision helped them deliver a string of Top 40 singles and significant artist album sales as he developed an artist roster. In addition, he developed a career as a radio DJ, creating the weekly Hed Kandi Radio Show broadcast on JAZZFM/Smooth FM and the Galaxy network in the UK and through syndications around the world.

Always one to lead from the front, Mark single-handedly established the Hed Kandi brand in Ibiza in 2000 and from there he developed an international club phenomenon that knew no boundaries. He has played in Rio de Janeiro, Moscow, toured Australia and New Zealand, visited Japan and the Far East and just about every major city in Europe as well as the virtually every town with a decent club in the UK.

Surely one of the most creative, energetic human beings currently walking the planet, Mark launched Tokyo Project with his partners in 2005, with the release of the critically acclaimed CD 'Tokyo Project - The Collection'. That Project is now complete and Mark has used the invaluable lessons that he has learnt along the way to launch Fierce Angel - his absolute vision of what a record label and events brand really should be. This will be the most exciting phase of Mark's career to date.