Rain or shine, nothing could cheer me up like a bowl of delicious ice cream. I know for a fact that Filipinos love these creamy and sweet concoctions whether it's cold or hot, whether staying in or eating out, whether one is alone or with family. You could say that it is, much like chocolate, heaven on earth. That is why my visit to Ice Cream House sa Banawe was quite a treat for my taste buds.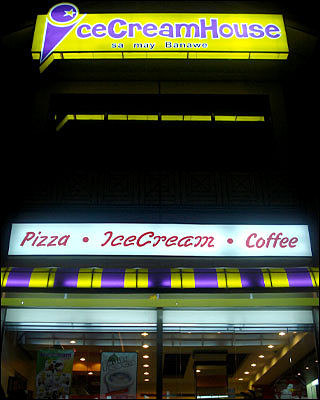 Ice Cream House sa may Banawe
Ice Cream House is a spin-off of the slowly growing chain of Ice Cream Stores around Metro Manila. Ice Cream Store is a chain of neighborhood ice cream shops where you could choose from a number of flavors and variants to take home. They offer almost everything from small cups to half-gallon tubs to buko on sticks.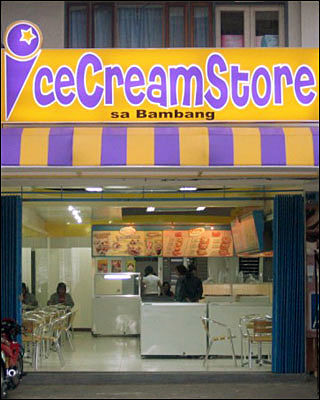 One of the many Ice Cream Store outlets
On the other hand, Ice Cream House, aside from offering what the Ice Cream Store already has, also serves ice cream specialties and preparations, as well as coffee, pizza and rice dishes. It is basically a restaurant where ice cream is the main event, not just a dessert.

Affordable, Good Quality Ice Cream




The first and only Ice Cream House… for now.
Okay, so it's an ice cream parlor. So what? Ice cream specialty restaurants are popping up everywhere these days. For Ice Cream House, the key word here is "inexpensive."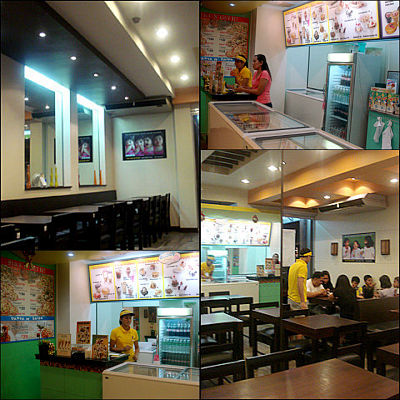 The Ice Cream House manufactures their own products. They offer none of the ice cream brands that are pretty good but expensive. They offer none of the low-priced brands found in the malls that are all right, if you like extremely gummy ice cream. This restaurant serves up ice cream preparations that are delicious yet easy on the pocket. My mouth was agape the whole time I was looking at their menu. Usually, I have to dig deep into my pockets to enjoy a decent banana split… not here. Honestly, I have no idea how this restaurant sustains itself with how good and how inexpensive their ice cream is. And I mean that in a good way.

Let's Eat!

Before taking a bite into some ice cream, there are a couple of dishes you may want to try out.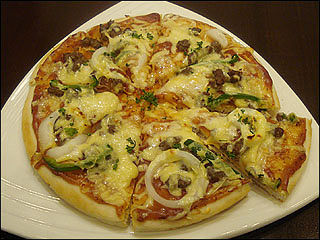 Meat Lovers' Pizza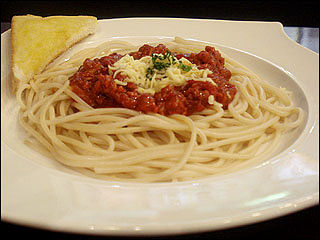 Filipino-style Spaghetti

For some good old-fashioned pizza-pasta combination, order the Meat Lovers' Pizza (Family P130, Solo P45) and their Filipino-style Spaghetti (P39). The former is their best seller; and the latter is sweet-style spaghetti with a tangy and cheesy twist.
Spicy Tapa with Rice
If you like something different, though, try their Spicy Tapa with Rice (P65). The tapa is not spicy enough for my taste; but the beef is tender and flavorful. It's a perfect companion to the garlic rice.

Now, for the main course – the ice cream… Aside from the usual banana split and chocolate sundae, Ice Cream House also offers shakes, floats and new twists on some old favorites.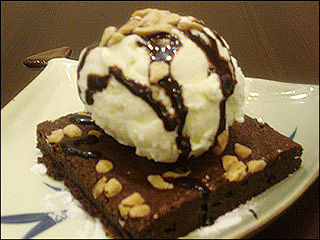 Brownie ala Mode
There's Brownie Ala Mode (P39). The base is an addictive fudge brownie topped with a scoop of vanilla ice cream and chocolate drizzle. If you like barquillos, you might also want to try the Crispy Funwich (P25). It's a scoop of ice cream sandwiched between two amazingly crunchy Belgian waffles.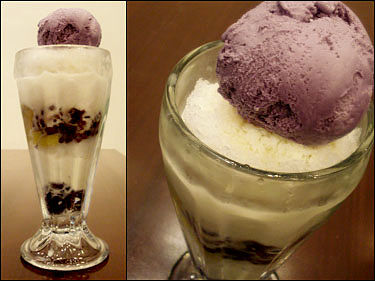 Halo-halo, a definite steal at P59!
If you feel like having some traditional fare, I highly recommend their Halo-halo (P59). No regular and special, the ice cream is there by default; and I love it. Their halo-halo is simply delicious in every sense of the word. It's got everything you want in this old favorite; and once mixed, the blend of sweetness and flavor is just right. I'll go out on a limb here and say that this is one of the best halo-halos I've had in a while; and it's only P59!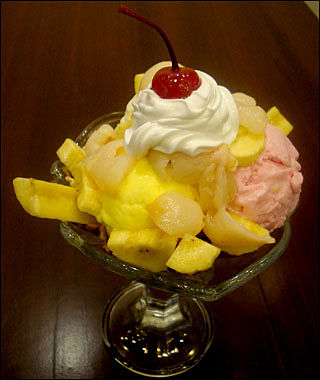 Fruit Temptation
For something unique, try Fruit Temptation (P79). It is vanilla, corn and strawberry ice cream on a crispy Belgian waffle topped with bananas, lychees, whipped cream and the ever present cherry. I don't usually go for lychees; but this combination changed my mind. This particular mix also made me rethink my perceptions about corn-flavored ice cream. You just have to try it out.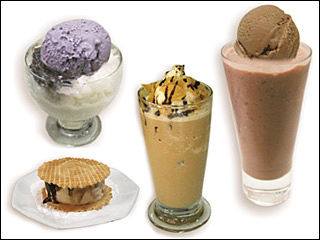 Ube Makapuno, Crispy Funwich, Cappuccino Shake, and Choco Shake
Ice Cream House offers more choices aside from these; and none of their ice cream preparations go over a hundred bucks. I absolutely guarantee that you'll get the ultimate bang for your buck. It's that affordable, you'll probably have some money left over; and you could use it to bring home some ice cream from their many selections.



From cups to drumsticks… Yum.

Ice Cream House promises everyday ice cream for everyone. It is a casual dining restaurant where anyone can come in and enjoy their favorite dessert. The interiors are simple and inviting, with images of people enjoying ice cream mounted on the walls. The service is also quick and reliable. You're sure that once that sweet tooth is calling, it will be answered as soon as possible.

"Life is like ice cream… Enjoy it before it melts!"
-- Truer words can't be said. Ice Cream House allows its visitors to get the most out of the ice cream they choose to enjoy. Delicious and affordable, could it get any better than this?

Location:
Quezon City 87 Maria Clara St. Banawe Quezon City
Tel: (632) 741-7648