I love coffee shops per se, but I don't really go for the coffee. My thinking would be I can make it at home, just the way I like it, without having to shell out a fortune. So I go for the company, the ambience, is some cases the free wi-fi, and mostly for the food.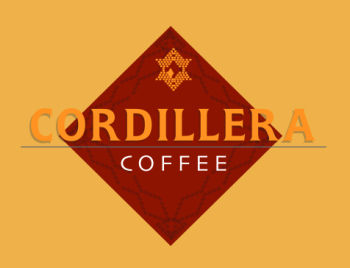 I stumbled upon Cordillera Coffee on another assignment, thinking it was just one of the run-of-the-mill coffee shops wanting a piece of the coffee culture boom. My first time at Cordillera Coffee was at the UP Vargas Museum branch, an al fresco café outside the museum. It was then where I met Grace Arboleda-Young, a Kalinga native, who introduced me to Kalinga coffee and Cordillera Coffee's cause to help Benguet farmers.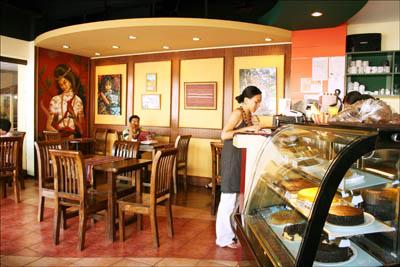 Inside the Riverbanks branch
Grace and her family grew up with coffee trees in their backyard and wondered why the Arabica coffee grown in the Cordillera region was not receiving any attention. "They are really good and comparable to Jamaican and Blue Mountain coffee," says Grace. "When you drink it, it's very smooth and hindi mapakla [not tart-y]." It also contains less caffeine. Kalinga coffee farmers get the beans from trees that are fifty to a hundred years old and use no chemicals during the harvest, making it organically-grown.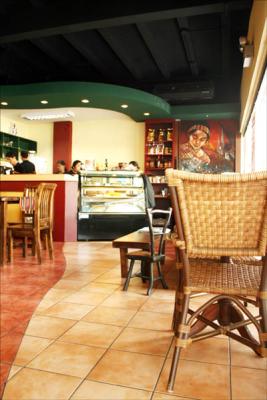 Inside the Riverbanks branch
For the fiercest of coffee drinkers, every cup has a story. In this case the story starts with a cause. "Coffee for a Cause" is Cordillera Coffee's advocacy on helping Benguet farmers sell their coffee at a fair price, meaning paying them higher than its usual market value. Often, these coffee farmers travel far carrying a sack of beans on their backs to reach the market, only to sell them to some of the most brutal hagglers (who sell them at triple the prices, mind you). So instead of walking home empty-handed, they're forced to sell premium beans at a very low price. Cordillera Coffee wanted to change this and even founded Coffee Aid, a volunteer program that helps the farmers through harvesting and coffee planting activities and other programs.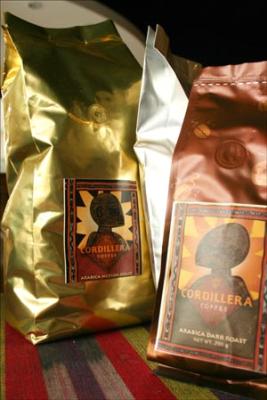 Onto the food. To begin with, their menu was conceptualized by the great Gene Gonzalez of Café Ysabel, who incorporated ingredients from the north for this venture. House specialties include the Cordillera Risotto (P90) made with red rice, bits of homemade longganisa, mushroom béchamel sauce and sprinkled parmesan. It is as lovely as it sounds.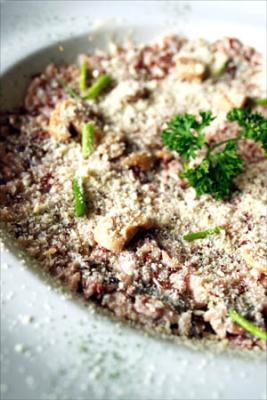 Cordillera Risotto
The dish is not overpoweringly creamy, just enough flavor to highlight its ingredients, and not too heavy but still perfect for those who want something filling. They are also proud of their Pancit Sinanta (P90), which uses Isabella pancit, mixed with garlic bits, chicharon and chicken liver, steaming in a bowl of soup.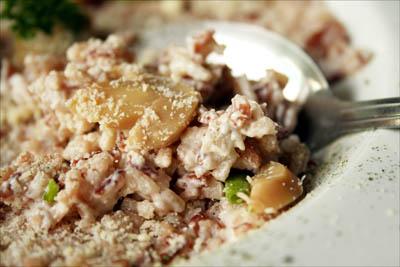 Cordillera Risotto
Now I am not a fan of any kind of liver but theirs seems to be nicely tenderized and marinated in some magical sauce because I could not help eating it. I would say this dish makes great comfort food.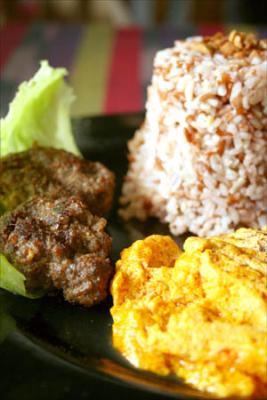 Cordillera Breakfast
My personal favorite is the Cordillera Breakfast (P90), their version of "longsilog." Composed of homemade longganisa, scrambled eggs with house tomato sauce, and garlic red rice, this dish comes highly recommended from regulars. I am big on breakfast food and this definitely hit the spot. My only "beef" would be I wish it came in larger portions!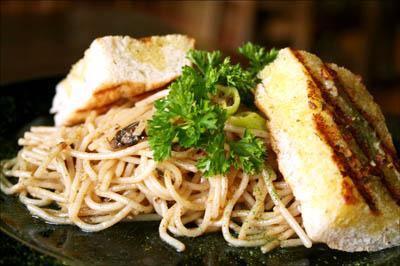 Ilocano Pasta
I loved their Ilocano Pasta (P100), one of the newer offerings they have for the health-conscious. It's olive-oil based with bits of tuyo and combines some hot Ilocano spices with siling labuyo and jalapeno. If you like things simple, healthy and spicy, this one's for you. They also serve a variety of panini sandwiches with freshly-baked panini bread. I also got a kick out of their freshly-brewed Benguet iced tea which surprisingly had no caffeine and is apparently herbal.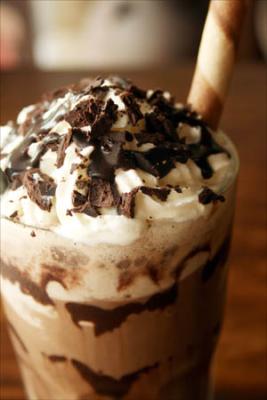 Dutch Chocolate Mint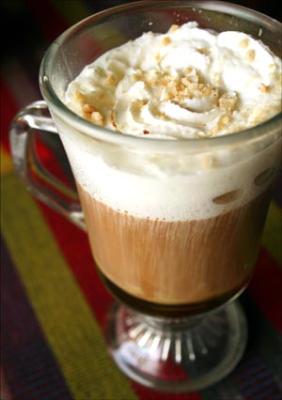 Almond Coffee
Then, there's the coffee. Coffee Cordillera has hot and cold variations, also conceptualized by Chef Gene. I tried the Caramel Coffee Slush (P105-P120) on a hot day and sipped—okay, knocked back—the glass in about ten minutes, tops. You should know that I like my coffee hot and rarely drink the cold variety but this one I really liked. It was not too milky like most cold coffee drinks and retained the original flavor of the beans nicely despite the caramel.

Café Amandine (P90), of the hot variety, uses non-alcoholic amaretto syrup and crushed almonds for that nutty taste. If you're adventurous and willing to splurge, they do carry that Civet coffee everyone's been talking about. Sometimes known as alamid or "cat poop coffee," one of (if not the most) expensive brews in the world. A cup in Cordillera Coffee (they call it D' kapetimusang) is a bargain at P300 because it costs 50 pounds (P4,000) in London!

I am guilty of rating restaurants according to their dessert menu and this one I give two thumbs (way) up for their Tableya Chocolate Cake (P50).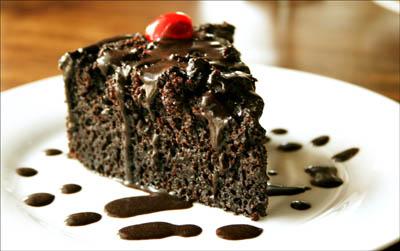 Tableya Chocolate Cake
It's made with local tableya chocolate and drizzled with homemade chocolate syrup. What I love about it is that its texture is deliciously moist but not too dense, almost like a rice cake, and it's pleasantly sweet and not the type that leaves you gasping for water before you finish a slice. It's something different and worth trying. Their Coffee Jelly (P60), served with vanilla ice cream and a touch of orange marmalade, is nicely done too.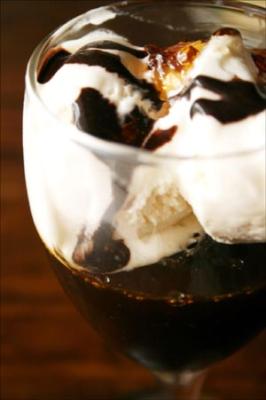 Coffee Jelly
The fact that nothing on the menu is over P150 (save for the Civet coffee) is fantastic! They have four locations so here's my tip. If you want your food fresh from the stove, go to their commissary at the Xavierville branch. If you want to relax and hangout in a homier café and enjoy free wi-fi, head to the Riverbanks branch. Should you want to dine al fresco and have your food served with a side of art, then it's off to the Vargas Museum. And if you're a stranger to Baguio, now you know where to find good food and great coffee that will have you beaming with Pinoy pride.
Cordillera Coffee
Marikina
Riverbanks Center
84 A. Bonifacio Road0, Barangka
Marikina
Tel: 482-2515
Cordillera Coffee
Quezon City
Unit 104 LLanar Blag. Xavierville Ave. cor. B.Gonzales St.
Loyola Heights
Quezon City
Tel: 436-0324
Cordillera Coffee
SM City Baguio
Luneta Hill
Upper Session Road
Baguio City
Baguio
Tel: (074) 424-0782
Monday to Thursday: 10am to 9pm; Friday to Sunday: 9am to 9pm