Juggling school, three jobs, and motherhood is quite a task. The past few months have been so insanely busy that February, including Valentine's Day, just came and went and I didn't even realize it. So after finally realizing that the Mister and I completely forgot to celebrate Valentine's (more than a month after!), we immediately set a night out to go on an extra-special date. We were determined to find somewhere super special to spend our Post-Valentine's date, a place where we can forget all worries about work, a place where an exceptionally romantic dinner could be had, somewhere that will completely make up for the fact that we were celebrating a month late. And you know what? We did.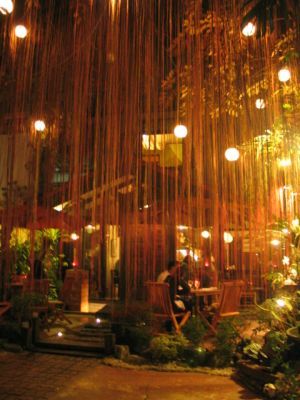 In-Yo: A Special Place.

Just walking towards In-Yo Fusion Cuisine was enough to let us know that we were in for a special treat. It has that romantic, almost fairytale feel to it as we were walking down the driveway towards the quaint charming house bathed in the soft light of the capiz shells and framed by the hanging vines from the big old tree standing outside. The beautifully landscaped Japanese garden with the Zen fountains makes a tranquil welcome, too. Japanese koi flank the wooden bridge over the pond that leads to the majestic wooden door to the main dining area. Dramatic? Very. But not until you head inside and see that upon entering, you are literally standing over the water with the fishes swimming directly underneath the glass flooring. How unique.

After taking lots of pictures of the busy koi swimming happily underneath my feet, we were politely ushered to our table. Before I can fully concentrate on their menu, I had to take a long look around just to take everything in: the smartly dressed servers carrying flasks of water with orange slices and pandan leaves in it; vintage sewing machines transformed into very elegant looking tables; Vietnamese instruments and other Asian knick-knacks scattered all over the place; the open view of the busy chefs in the kitchen; and the satisfied looks of all the other early diners. I was already so happy and satisfied and I hadn't even ordered yet!


I was mildly surprised to see that for a weekday, the little dining room was packed; with more guests sitting in the garden and in the little room upstairs which they have also opened to diners. Situated on an otherwise non-commercial backstreet in Katipunan, In-Yo is a bit easy to miss so I was almost sure that most of the diners were either regulars or people who have also heard about this culinary gem through word of mouth. I looked at the Mister and we were both grinning from ear to ear; just the ambience alone was enough to get us giddy from anticipation. Walking into this almost hidden restaurant made us feel like we were being let in to an intimate secret.

This place was special. So special that even the bread that they served us while waiting was quite unique! Their bread was freshly baked with little bits of red bell pepper in it giving it a unique kick; perfect with the herbed butter that they served it with. Even In-Yo's Special Iced Tea (P65) was not your usual instant iced tea; theirs is a refreshing concoction of freshly brewed tea infused with citrus and mango flavor in the form of a cube of frozen mango juice. Simple but pretty ingenious; this way, when the ice melts, it doesn't water the iced tea down; it gives it more flavor instead! Smart, eh?

Gustatory Bliss.
One look at the menu and it was apparent that it had a strong Japanese influence; with dishes like Wasabi Fried Oysters, Oven Baked Sushi Style Prawn Roll and Baked Unagi with Pan Seared Foie Gras to name a few, plus interesting side dishes like Wasabi Mashed Potatoes, Sushi Rice and Japanese Paella. So it came as no surprise when I found out that the chef's roots in his culinary training is in Japanese cuisine, which he then used as foundation to build on with classical French techniques to create his own fusion cuisine. What I had assumed to mean 'yours' which is Tagalog for the term inyo, actually meant 'yin yang' in Japanese. "In-Yo in Japanese means yin yang so it's really balance and harmony just like my cuisine," Chef Nino Laus, In-Yo's owner and executive chef explains. Knowing this just made me all the more excited to eat; I was excited to see how the distinct Asian flavors and elements of Japanese cuisine would be married to classical cooking techniques in all of Chef Nino's creative dishes.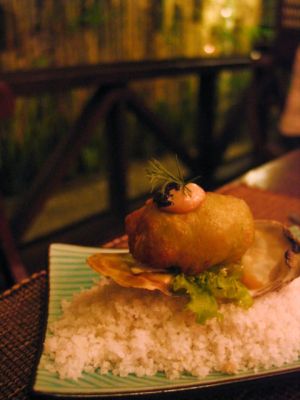 Wasabi Fried Oyster
First to find its way to our table was our amuse bouche in the form of the Wasabi Fried Oyster (P225.00 for plate of 6 pieces). The amuse bouche is usually served to prepare the guest for the meal and to serve as some sort of preview of what is to come; and this one was an especially intriguing one. First, I was amused by how interesting it looked: this little green thing served in an oyster shell sitting in a little hill of rock salt. What it is is an oyster fried in a wasabi-infused batter served with a pea-sized dollop of citrus-mayo and topped with lumpfish caviar… It was scrumptious! Biting into it was a surprising burst of flavors and texture in my mouth; with the sweetness of the Japanese mayo, the delicate brininess of the oyster punctuated by the subtle wasabi kick paired with the perfect crisp of the batter then the smooth feel of the dressing and the oyster as I bit into it. It was so good that I could have easily finished a plateful of this before I can even order anything else. If this amuse bouche was anything to go by, then we knew that we were in for a night of curious, interesting dishes.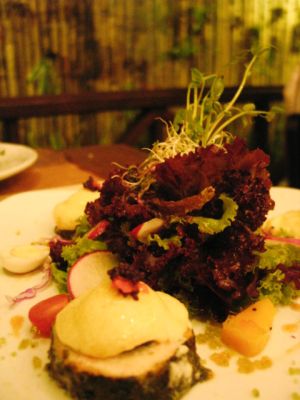 Oven Baked Sushi Style Prawn Roll
Next up was the Oven Baked Sushi Style Prawn Roll (P325), an ingenious creation of nori wrapped prawn roll served with Japanese mayo and caviar. While this was also an interesting dish, I found that the rich taste of the Japanese mayo may have overpowered the prawn's flavor and that it was quickly overshadowed by the previous dish and the dish that followed.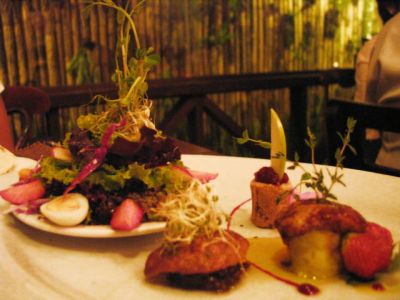 Trilogy of Foie Gras
When the next dish was served, I almost fainted. Three beautiful servings of foie gras sat proudly in all their delicious, sinful glory next to what was quite possibly the most majestically plated salad I have ever seen. The Trilogy of Foie Gras (P670.00) is, to quote from the menu: 'pan seared with caramelized maui onions, poached with truffled potato, torchon with cranberry jelly, served with mixed greens and seasonal fruits in honey ponzu dressing'. It tastes even better that it sounds, too! The rich flavor of the foie gras and its buttery texture were well-complemented by the caramelized onions and the mixed greens. I liked eating the foie gras with the greens as it made me feel less guilty about indulging, as no amount of self-restraint could have stopped me from finishing both the pan seared one and the poached one (I'm not a big fan of torchon so I left that to the Mister!). The pan seared foie was clearly the winner to me; although the poached foie served with the truffled potato comes as a close second since I did love how the subtle truffle flavor made the foie gras taste even fuller. It was so rich in flavor and left an almost silky texture in the mouth that I had to close my eyes just to savor the deliciousness of every bite.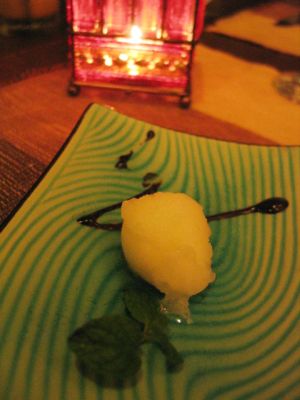 Calamansi & Yuzu Sorbet
And just when I was starting to get light-headed from all the delicious, sinful dishes I had just eaten, out comes the Calamansi & Yuzu Sorbet right on cue to 1) clean our palates and reset our tastebuds and 2) to remind me that more is yet to come.

When our main dishes were served, we just had to take a few seconds to stare in awe at the chef's masterpieces. Plated excellently, you can tell that a great deal goes into just making the dishes visually appealing alone.

The Miso & Shiraz Braised Lamb Shank (P840/for sharing) looked pretty intimidating as it rose from the wasabi mashed potatoes and the buttered asparagus spears it was served with. It was a pretty interesting dish and although I like my mashed potatoes a bit smoother, I did appreciate how the wasabi lent a unique kick to the dish as it provided the perfect contrast to the sweet, full-bodied flavor of the miso-and-shiraz-infused sauce. And, as I am a huge fan of lamb, I found myself wishing that the shank retained more of the gamey lamb flavor; but the more than generous chunks of oh-so-tender lamb meat more than made up for this. "I braised that for 4 hours, ha!" Chef Nino proudly exclaims when I made a comment on how soft the lamb was. In fact, even without the game flavor, the meat still tasted pretty great on its own. But of course, this dish tastes best when all the flavors and elements come together in every forkful.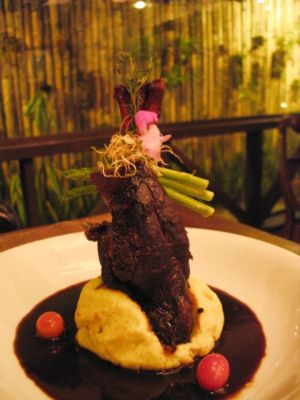 Miso and Shiraz Braised Lamb Shank
The other half of our main course was the Honey Glazed Grilled Salmon (P440). It was actually the perfect companion to the lamb dish's bold flavors as this dish was all about light, sweet and lively flavors. The fish was very tender and the sweet citrus miso sauce enlivened its flavor all the more. Again, I was a bit disappointed with the wasabi mashed potatoes' not so smooth texture, but I still liked this dish very, very much! It was very flavorful without being too rich and didn't leave you feeling too full.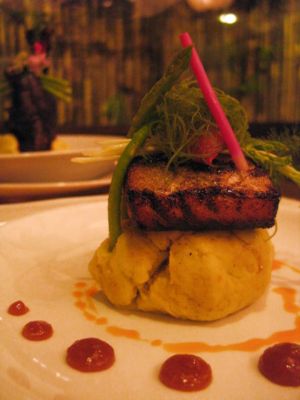 Honey Glazed Grilled Salmon
Dessert was a whimsical, playful affair, too! The Chocolate! Chocolate! Cake (P270) which is basically a Valhorna chocolate pudding filled with molten chocolate truffle was served with tropical fruits and a shotglass of vanilla milkshake. The idea is to punctuate each bite of the warm pudding with a shot of the cold milkshake. The play of hot and cold, and the intense sweetness of the chocolate with the fruits made this the perfect dessert to cap off an amazing dinner that showcased the young chef's masterpieces of layered colors, textures and flavors!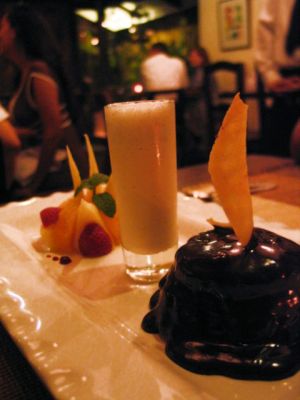 Chocolate! Chocolate! Cake
From a dessert addict, I would say that the Chocolate! Chocolate! Cake, though not orgasmic, was still pretty fantastic! Paired with the perfect cup of their Vietnamese Coffee Drip (P80), we definitely ended our date on a high note!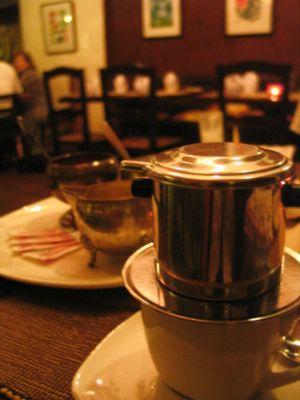 Vietnamese Drip Coffee
Culinary Genius.

By the time we finished dessert, I was in a state of gastronomical bliss and as we sat there patting our beyond-full stomachs, all we could think about was how such a young chef (Chef Nino's only in his 20's!) has already mastered this art of creating a masterpiece of different flavors, textures and colors in every dish; definitely a culinary artist in his own right. Judging from the way that Chef Nino makes it a point to welcome and entertain his guests by going around the dining area making sure the guests were taken care of, I could tell that there's a lot of heart in all the dishes and in the place itself.

Magical Dining Experience.

In-Yo is more than just a place to eat. It is a showcase of Chef Nino's art. With Chef Nino's culinary masterpieces and the fairytale ambience, it becomes an amazing overall dining experience. And to think that you don't even have to spend a lot for such a date! At In-Yo, a fine dining experience could be had without the lofty prices. In-Yo even serves a 6-course Degustation Menu for only P1000! Pretty affordable for such an extraordinary dining experience. In-Yo has proved to be one of those really special places where everything just seems so magical.

So, did we forget that we were celebrating Valentine's more than a month late? Yes, we did. Our In Yo date was so perfect that it could easily make up for the next couple of Valentine's dates, too!

In-Yo Fusion Cuisine is at 66 Esteban Abada, Loyola Heights, Quezon City. For inquiries and reservations, call 928-6458.