Philippine fashion's torchbearers were front and center last week, showcasing their debut collections during Philippine Fashion Week 2008.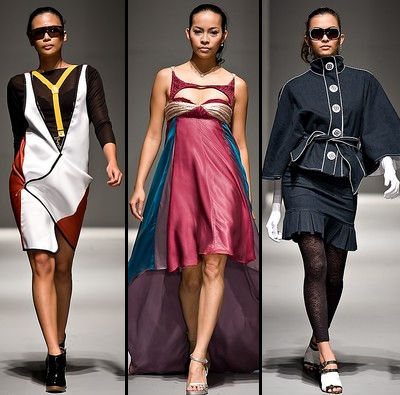 The New Generation Collection featured 12 brand spanking new designers, showcasing their debut collections on the second day of Fashion Week. While guests were brought in at 8:15 pm (in order to start the 8:30 show on time), most of the audience decided to arrive not-so-fashionably late, thus delaying the start of the show. Since half of the seats were placed ingeniously in the middle of the rectangular catwalk, event organizers had to wait for the middle seats to be filled up before starting, as latecomers would've disrupted the sashaying models. Nonetheless the show itself was a success. The 12 young designers showed a stunning display of range and originality, and while there were some misses, strong collections from some individuals drove up the applause as the designers took their place on stage.

Fashion week was held in the newly opened SMX Convention Center, a monolith structure found next to the sprawling SM Mall of Asia. The imposing steel and glass structure housed several hangar-like halls. The New Generation Collection was held in Hall 3, which complete whitewashed, with rows and rows of neatly lined up white seats surrounding a sleek catwalk. Guests and media personnel were all chatting up a storm before the show, pausing only to look up each time time a fashion or showbiz celebrity slinked to their seats or when director extraordinaire Joey Espino Jr. strode by in his white and silver ensemble. Finally, perhaps a good 40 minutes after the doors were opened, the lights dimmed and the throbbing beats began.

A short introduction video was flashed on screen, segueing smoothly into the collections; first up was accessories maverick Alodia Ceciclia. Her 'Urban Royalty' collection was a very feminine take on African and Asian styles, softening them up jewel colors and loose, modern silhouettes. Cecilia's intricate accessories were the definite highlight of the collection, as chains snaked their way around the models' napes and temples; they were statement pieces that retained their wearability even as they elevate a simple ensemble to new dazzling heights.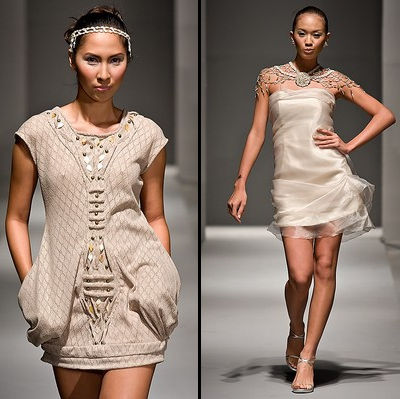 Alodia Ceciclia
Second was Anna Leah Salvador, whose whimsical, romantic designs were a throwback to bygone eras. Black and white pieces contrasted with floral details showed how how a modern, confident girl might dress up for a date if she wanted her guy's attention all night...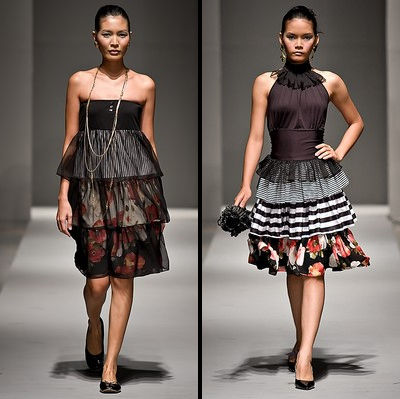 Anna Leah Salvador
Ciege Cagalawan wowed the crowd with his larger-than-life designs. His Oriental Afrikaan collection was filled with wild multi-colored animal prints, decadently embellished stockings, and ornate belts. His clothes were definitely not for the faint-of-heart. "His clothes could start their own party!" exclaimed a fan.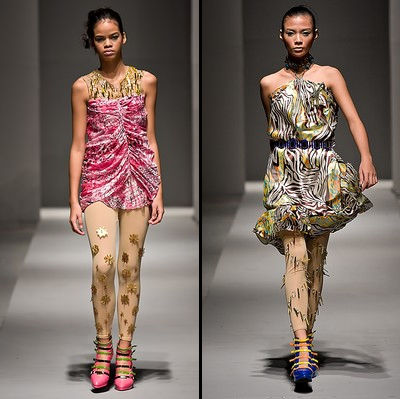 Ciege Cagalawan
Dax Bayani took a swipe at the fashion police, dressing them up in sleek military-inspired costumes that could make even the most pot-bellied of law enforcers attempt to lose some weight. The first of the designers to feature a menswear as well, the Bayan trotted out models in figure-flattering ensembles, cinching waists and lengthening silhouettes with narrow, structured jackets.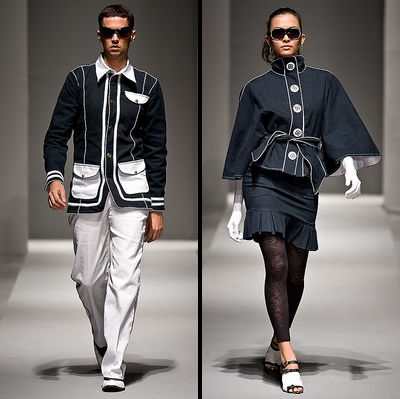 Dax Bayani
Soft, pastel and white dresses dominated Gerswin Cua's collection, complemented by gold chain trimmings. The designer was inspired by
strong warrior princesses and the lofty, proud eagle, thus a collection of regal serpentine dresses and voluminous gowns adorned with feathers.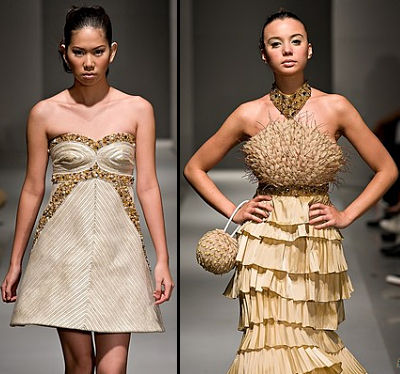 Gerswin Cua
Beautiful, envy-inducing bags from Gionna Cabrera's bags drew many excited murmurs from the audience. The lacquered, wooden hand and clutch bags were all conversation starters, gorgeous additions to anyone's bag collection. Favorite designs where the Dali-inspired timepiece and ornate, old-style perfume bottle.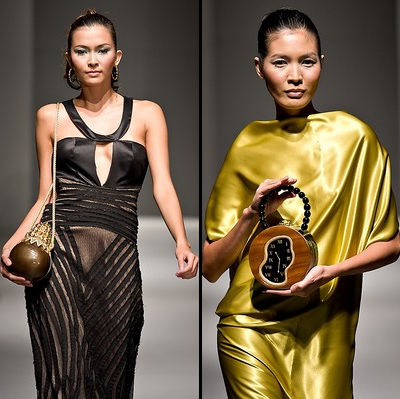 Gionna Cabrera
Gretchen Pichay showed her interpretation of the modern woman, this time a sensualist, intelligent and confident about her body and her talents. One could easily see bright young things stepping out for a girls' night out. Among the standout pieces where two yellow ensembles: a bright ultrashort creation and a more feminine, pale dress with contrasting black details.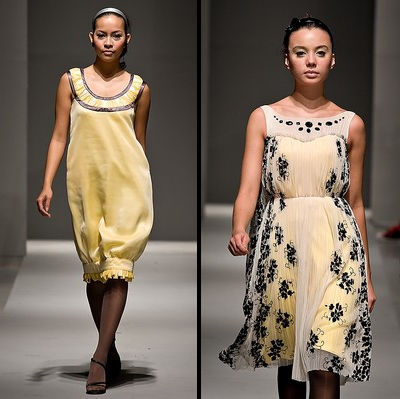 Gretchen Pichay
Next up was Lizanne Cua, who's theme 'Peace of Mind' was clearly seen in her clean, neutral-hued collection. Her ascetic approach was clearly seen in her menswear collection, where structured jackets were stripped to the minimum. The women's collection was just as body conscious, with deep necklines and narrow silhouettes.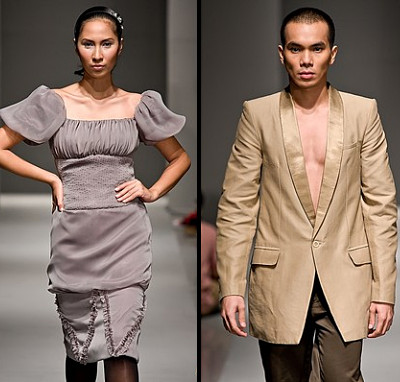 Lizanne Cua
Marc Rancy's 'Urban Sensualities' was parade of color and fabric: a bright, voluminous, dizzying array of daringly-cut ensembles. This bold collection was Rancy's celebration of the Filipina's power, influence and sensuality.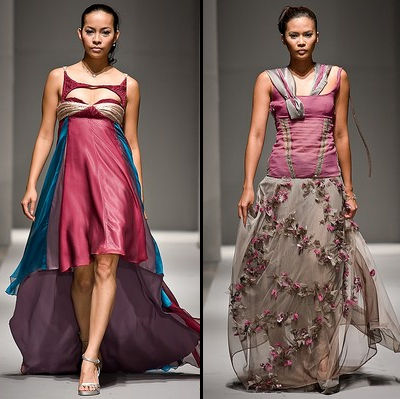 Marc Rancy
Nikki Sonico wanted her pieces to have a 'regenerative feel' to the wearer and observer, thus she chose a verdant color scheme, green in varying shades and bold contrasting colours such as gold, silver, and dark gray. The result was a beautiful collection of classy cocktail dresses that pretty young debutantes will no doubt be snapping up in spades!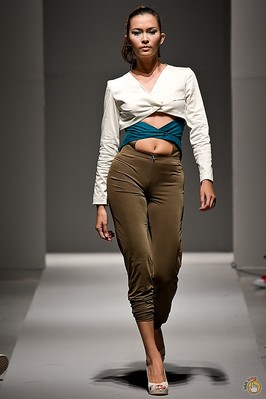 Nikki Sonico
Next up for that night was Patrick Galang, whose collection was once again aimed to complement the female form. Figure-flattering designs were whipped up with notes of whimsy, humor and spontaneity.


Patrick Galang
Winding down the show was Prisara Morales. Working on more esoteric themes such as displacement and lost continents, Morales worked her austere aesthetic in a series of expertly cut ensembles, fluid designs that resembled running water as the models flitted quickly, one after the other on the runway. Unexpected details such as feathers, embroidery and tie-dyes whispered the beauty of change, capping off perfectly the evening's celebration.


Prisara Morales
After their individual turns, all 12 designers and their models took to the stage amidst the rapturous applause. Seeing the motley of designs and creations, aglow under the bright lights, one could see a glorious peek at the future of fashion.

Hailed as the nation's longest running fashion event, Philippine Fashion Week celebrates the artistry and talent of local designers from May 26 to June 3 in the SMX Convention Center and SM Mall of Asia.