As the old adage goes, "Art is the food for the soul." If this is the case, then dining in this newly established resto cum gallery in Makati, wouldn't gratify only its customers' stomachs, but their souls as well.

While looking around A.venue mall, my friend Bea chanced upon this attractive place named Artina Gallery Cafe
. She decided to spend her afternoon there and came out very pleased. I got in touch with Mr. David Peckson, the restaurant owner to know more about this resto. As the raconteur he is, he warmly welcomed us and gave a very entertaining discussion on how the place came about.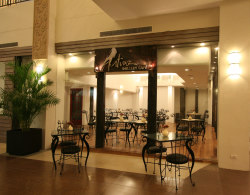 You cant help but notice it: floor to ceiling glass walls, warmly lit interior accentuated by dark colored wood, classy furniture, and of course, the vibrant paintings on the wall. It was simply comforting to look at and it's hard to resist such an inviting ambiance. As you enter the place, relaxing music will soothe your mood. The temperature is neither too cold nor warm, and the waiters are all comely and attentive.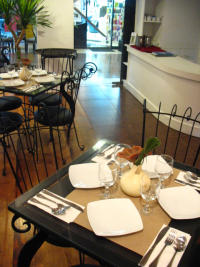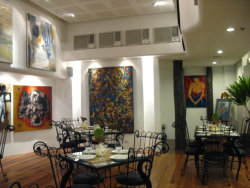 The menu consists of the usual five course meal: soup, appetizer, salad, main course, and desserts. Artina features the fusion of Italian, French and Mediterranean cuisines, Yellow Fin Tuna and Vegetable Kebobs with Chive and Dill Crème, Mesclun in Italian Vinaigrette with crisp phyllo-stuffed Mushrooms, Linguine with Clams and Chorizo in a Lemon-Cream Reduction are just some of the appetizingly named food choices listed in the menu. Reading through this not only makes the customers' mouth water but also adds on the sophisticated feel of the place. Confused on what to have for a late lunch, I just asked Mr. Peckson for their best-sellers. While waiting for our food to be served, he proudly related how Artina developed from just a concept to what it is now.

"It is like hitting two birds in one stone," the owner, Mr. David Peckson says. Some people would initially just come for the food, but if they find the paintings interesting, perhaps they'd want to purchase it. On the other hand some would go for the art, and once they find the food served on the table of the other customers appetizing, they'd dine there as well. As the owner of Artina Suites Hotel, it is no surprise that Mr. Peckson is already familiar with the strategies in the business. When more and more people commended them for the original Artina Cafe found in the hotel, they thought of operating another one independent of the hotel, and thus Artina Gallery Cafe was born.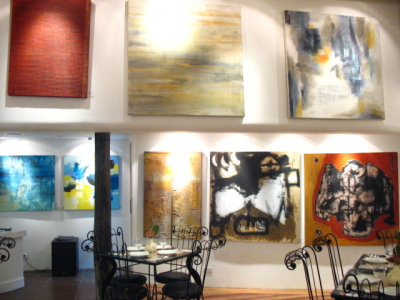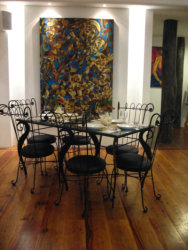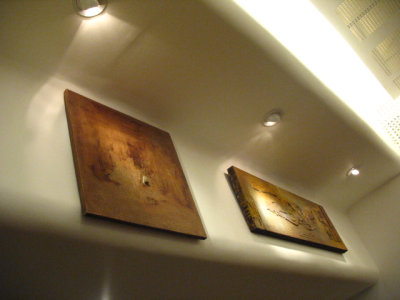 I asked him if he is an artist himself or perhaps an art aficionado. According to him, his background is in engineering so he's more of a technical artist. His sister-in-law Marilen Perfecto, who is an artist, is the one responsible for the aesthetic aspect of the restaurant. "We didn't look for new wood. We looked for a junk shop and there we found old planks of wood because that's what she wanted. The (old) Meralco posts. These are all in the artist's mind. I could not see how it was going to work," he shares, "I thought the wood was.. may anay na.. what have you... This is not proper! But leave the artists with their creative juices flowing then voilà! A piece of art this is also, no?" I could not agree more with what he said.

Regarding the paintings they exhibit in here, Artina Gallery Cafe has another popular gallery as a partner. Ms. Marilen Perfecto shortlists and picks what pieces are to be displayed in the cafe. They change the art theme every month. When we were there, they showcased abstract works. When asked if they'd be open for artists who wish to exhibit their paintings in their walls, Mr. Peckson answered "At the start we can't because we have an arrangement with the gallery, but a few months perhaps...Yeah... We will feature artists, that's a very good idea."

As the waiters started serving our food, Mr. Pecskon discussed how tedious it was to choose and design their menu. He proudly relates that it took them a year of food tasting sessions before coming up with the right food to offer and the right way to prepare it. On why Mediterranean cuisine, he answered "The art kind of needs the right cuisine. You can't sell art and serve adobo... So for the sake of the art... Mediterranean."

Three mouth watering dishes lay on the table. We all agreed to share and have a sample of everything:
Linguine with Seafood in Spanish Saffron and Cream Sauce, Grilled Salmon Fillet with Citrin Risotto and Pesto Glaze, and Black Peppercorn Crusted Certified U.S. Angus Rib Eye Steak with Sauce Demi Glace,the top-sellers in Artina.

Mr. Peckson also particularly asked me to try the Calamansili Slush (P70). Now that's weird. There I was, holding a drink with a red chili, floating in my tall calamansi slush. I sipped the drink and it tasted like calamansi. What's the difference, then? It took my tastebuds a few seconds before it recognized the interesting zing as the chili taste kicked in. Now that was cool!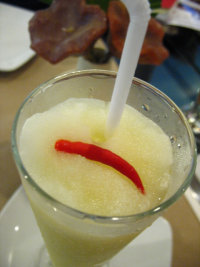 Calamansili Slush
Though I still am not done enjoying my love affair with the fascinating slush, I had to save it for later. I should taste the food before they get cold, so I sampled the Linguine with Seafood in Spanish Saffron and Cream Sauce (P290) first. I felt the dish is enough to satisfy one person; for the light eaters, you get more than enough. Shrimps, Mussel, and Clams are generously mixed into the pasta. The dish is as appetizing and creamy as it looks. The pasta is al dente, too. I could have devoured the entire dish but I resisted because I had to save space in my stomach for the next two dishes.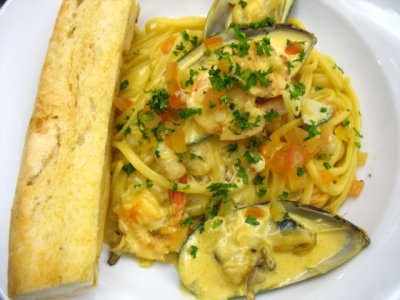 Linguine with Seafood in Spanish Saffron and Cream Sauce
Next in line, I tried Grilled Salmon Fillet with Citrin Risotto, Pesto Glaze (P360). This is Mr. Peckson's favorite among all dishes served. "When I tasted it, I said 'Oh God I'm gonna get fat!'" he related as he laughingly recalled his first time tasting it. True enough, the salmon was delectable. It tasted really fresh in contrast to the other salmons I tasted from before where it isn't hard for me to guess how long the fish stayed in their refrigerator. The fish meat was firm and it doesn't easily crumble. Though very much pleased with the salmon, I do recommend those who are used to eating more rice with their meals to consider ordering an extra side of rice apart from the dish.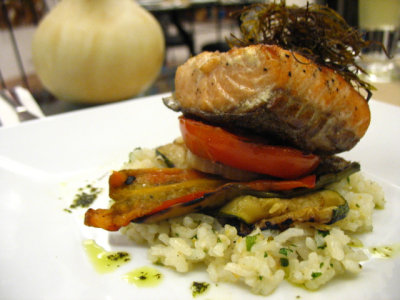 Grilled Salmon Fillet with Citrin Risotto, Pesto Glaze
And as they say, always save the best for last: Black Peppercorn Crusted Certified U.S. Angus Rib Eye Steak with Sauce Demi Glace (P750). No doubt the name alone made your tummy grumble. 300 grams of Angus quality beef for P750? Not bad. Very reasonably priced, the steak was so tender and flavorful. I didn't have a hard time slicing and chewing. The dish also comes with yummy mash potatoes which perfectly complemented the beef. It was fluffy and consistent. After the steak, my tummy already reached its point of surrender... very much satisfied.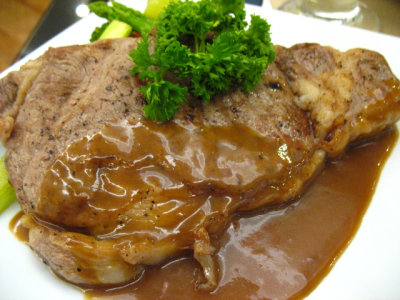 Black Peppercorn Crusted Certified U.S. Angus Rib Eye Steak with Sauce Demi Glace
If you're looking for a place to unwind away from the busy streets of the metro, indulge your visual and gustatory senses in Artina Gallery Cafe. The ambiance is perfect for dates if you seek a fine dining experience minus the sky-high fine dining prices. Aesthetic in all aspects: from the interiors to the food presentation. Artina Gallery Cafe is definitely an artwork itself. You might come here for food, or perhaps the art, but either ways you'll leave this place satisfied.